Welcome to my stop on The Murder Complex tour!
Today I have a Q&A with Lindsay Cummings, and don't forget to enter the awesome tour-wide giveaway at the end of this post!
The Murder Complex (The Murder Complex #1)
Author: Lindsay Cummings
Publisher: Greenwillow Books
Synopsis:
An action-packed, blood-soaked, futuristic debut thriller set in a world where the murder rate is higher than the birthrate. For fans of Moira Young's Dust Lands series, La Femme Nikita, and the movie Hanna.
Meadow Woodson, a fifteen-year-old girl who has been trained by her father to fight, to kill, and to survive in any situation, lives with her family on a houseboat in Florida. The state is controlled by The Murder Complex, an organization that tracks the population with precision.
The plot starts to thicken when Meadow meets Zephyr James, who is—although he doesn't know it—one of the MC's programmed assassins. Is their meeting a coincidence? Destiny? Or part of a terrifying strategy? And will Zephyr keep Meadow from discovering the haunting truth about her family?
Action-packed, blood-soaked, and chilling, this is a dark and compelling debut novel by Lindsay Cummings.
1.) How did you come up with the idea for The Murder Complex?
I read this creepy article about a small town that was full of murders, and I thought, "Hey. That could be a really cool futuristic story…." I let it stew for a while, but the words THE MURDER COMPLEX kept popping into my head. Eventually I couldn't take it anymore, and I started writing!

2.) Which character was your favorite to write and why?
I totally loved writing Meadow, because she is me (minus the killing). I loved writing Zephyr, because he is my husband (minus the killing). But I loved writing Talan, Zephyr's best friend, because she's hilarious and I had so much fun creating her character!

3.) What are you reading right now?
I'm almost done with CITY OF LOST SOULS by Cassandra Clare, and I'm also listening to the audibook of THE FALSE PRINCE, which is totally incredible!
4.) When did you know you wanted to be an author?
I always loved books growing up. I'd write little short stories and silly poems and incredibly dramatic, long letters to my parents when I got in trouble or wanted something. But it really became serious when I graduated high school, got sick with Chronic Fatigue, and had no other options but to lay in bed and write. From there, it became my passion! I'm so blessed that I get paid to do what I love, and so blessed to have people that support me!
J
5.) Give us three random facts about yourself that wouldn't be found by searching the internet.
I sing probably 12 hours of the day, nonstop. It's a curse.

When I was little I used to think I could levitate, but only by my mailbox.

I went to visit Portland, Oregon once, and I literally hiked like 10 miles just to get to Powell's books…and then I did it again the next day. And again the day after that. I never went to any other Portland "hangouts" other than Powell's. BOOK PRIDE, MAN!
Follow the FFBC The Murder Complex + Fear Trials blog tour and don't miss anything!
Click on the banner to see the tour schedule.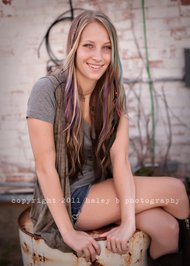 Lindsay Cummings is the 20-year-old author of THE MURDER COMPLEX, as well as its sequel, coming 2014 from Greenwillow Books/HarperCollins, and the MG trilogy THE BALANCE KEEPERS, coming Fall 2014 from Katherine Tegen Books/HarperCollins.
Lindsay deals with chronic fatigue, can't get enough of her two pesky German Shepherds, wolf cub, and two horses. She's still waiting on her letter from Hogwarts--it was probably just lost in the mail.
You can follow Lindsay on twitter @lindsaycwrites
Win (1) of (3) signed hardback of The Murder Complex + swag pack