Welcome to my stop on the LAILAH blog tour!
I'm super excited to bring you guys my interview with Nikki Kelly and my review of the book.
I also have a finished copy of the book for one lucky reader, thanks to Feiwel and Friends!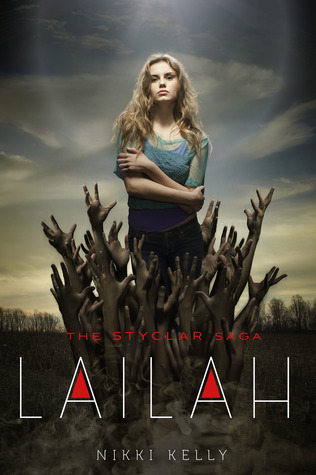 Publisher: Feiwel and Friends
Release Date: October 7th 2014
My Review Copy: Print ARC via publisher
The girl knows she's different. She doesn't age. She has no family. She has visions of a past life, but no clear clues as to what she is, or where she comes from. But there is a face in her dreams – a light that breaks through the darkness. She knows his name is Gabriel.
On her way home from work, the girl encounters an injured stranger whose name is Jonah. Soon, she will understand that Jonah belongs to a generation of Vampires that serve even darker forces. Jonah and the few like him, are fighting with help from an unlikely ally – a rogue Angel, named Gabriel.
In the crossfire between good and evil, love and hate, and life and death, the girl learns her name: Lailah. But when the lines between black and white begin to blur, where in the spectrum will she find her place? And with whom?
Gabriel and Jonah both want to protect her. But Lailah will have to fight her own battle to find out who she truly is.
LAILAH is one of those books that I have a hard time writing a review for. Now, that's not to say that I didn't enjoy it, because I really did. I flew through this book in one day, and every time I had to put it down, I couldn't wait to pick it back up again. Something about the story and the characters was just so addictive.
The book wasn't perfect. I didn't feel that there was much mystery, as I figured out what/who Lailah was after reading the prologue. There were also a couple of other "reveals" that I had figured out much earlier in the story. The thing is, I didn't care at all! I loved going through the story with Lailah, and watching her find out the secrets about herself and her past.
This book gave me so many feels!! I was super invested in the characters and their relationships with one another. It was the first YA paranormal romance that I have read in a while that I didn't find cheesy. It was dark, creepy, and the vampires actually drank from humans(no chasing down deer in this one)!
I really enjoyed how Nikki Kelly put her own twist on heaven, hell, and a few other things about the origins of the angels and vampires. I don't want to spoil anything, so you will just have to see what I mean when you read this. It was a fresh idea and I found it quite though provoking!
There was a ton of tension filled romance in this book. I did feel that Lailah herself was a bit of an "jump to conclusions" kind of girl when it came to trusting her love interest, but it didn't bother me too much. I think that's because her situation and past made me more understanding of certain qualities that would have normally made me dislike her.
Nikki Kelly's writing style is
beautifully descriptive, lyrical, grabs you and pulls you right into the story.
Overall, I found LAILAH to be a highly entertaining read with well-developed characters, steamy romance, and tons of nail-biting-edge-of-your-seat action scenes! I can't wait to read the next book in THE STYCLAR SAGA! I want more of Nikki Kelly's writing, and I want more of Gabriel and Jonah! Did I mention those hotties? No? Well, there are two hot guys who both care about Lailah for different reasons and in different ways. Boy do those guys smolder! I NEED to know what happens next...like yesterday!!!
Do you enjoy paranormal romance with great characters, romance galore, and an creepy yet exciting storyline? Then pick up LAILAH!
My Rating:
4 STARS
Nikki, welcome to Jessabella Reads!
I'm super excited that you're here today to answer some of my questions. : )
1. How did you feel when you found out that Lailah, already a Wattpad sensation, was going to be published by
Feiwel & Friends?
I received the offer via email, which I read when I stepped off the Tube onto the platform.
The first thing I did was cry – loud and ugly-style! I am not a pretty crier, let me tell you, and when you get a message like the one that Liz (my wonderful Editor) sent me and you realize that your dream that you have worked so hard to achieve is about to come true, well, let's just say I didn't care how loudly or how unattractively I sobbed – despite the strange stares from my fellow commuters.
After the crying, it was pure elation!
2. Where did you get your inspiration for The Styclar Saga?
The beginning seeds for
The Styclar Saga
came from a dream I had one night. I dreamed of a girl with long blonde hair, who was assisting what appeared to be an injured Vampire. But it was not the Vampire that held my attention; it was the girl. She seemed to be caught in the shadows, and when she turned, her bright blue eyes flashed red, and I woke up.
I found myself wondering
what
she was, which ultimately led me to the question that was actually far more important: the
who
she was. That was the initial spark for
Lailah
. I drank a lot of tea, and, while I did, I pondered over the worlds and then formed them. I decided to spin the concept of Heaven and Hell, and then borrowed here and there from my own belief system to create the worlds in the story. Once I had built the worlds and had established the supernaturals that emerged from both The First Dimension (Styclar-Plena) and the Third (not yet named in Book 1), I placed Lailah right at the epicenter of the brewing storm between them.
3. What was the last YA book that you read and LOVED?
I just finished reading
Divergent
, by Veronica Roth… I know, I know, I'm pretty late off the mark with that one, but OMG, I loved, loved, LOVED it! Now I just need to find time somewhere to read the next two books!
4. Which character in Lailah was your favorite to write and why?
I really enjoyed writing all the characters; Jonah is definitely one of my favorites though, because I learned from him. He proved to me that change, however difficult, is absolutely possible and sometimes very necessary. The very nature of
what
he is puts him in a constant state of inner-conflict because, although his soul is now dark, someway – somehow – he is able to see the light long enough to rebel against the existence that was forced upon him. He struggles with who he is, trying to remember who he once was when he was mortal, and who he would like to be now. Plus, he's a bit of an underdog, and I'm English – we love the underdog
s
!
5. Tell us five random things about yourself! :D
I own several pairs of Bridget Jones pants! (That's panties to my US friends).
I am super short at just under 5 foot! My hubby often refers to me as Hobbit-sized.
I had a brief stint in a girl band when I was a teen. (Two of the other three girls went 'solo' after one studio session due to 'creative differences'.)
I'm weirdly obsessive about random things – for example, I have to brush my teeth at least six times a day.
I import Lucky Charms Cereal from the States, and then only eat the charms and throw the rest out…
I was born and raised only minutes away from the chocolately scent of Cadbury World in Birmingham, England. So it will probably come as no surprise that when I'm not dreaming in Vampires & Angels, I dream in chocolate! For the past ten years I have lived in West London with my hubby and two dogs, Alfie - the Pug & Goose - the Chihuahua.
LAILAH is my debut novel, and first launched in serial form to wattpad, a readers & writers community. Within just 6months, LAILAH had over a million reads and thousands of comments and votes.
Since then, The Styclar Saga has gone on to pick up a traditional deal with Feiwel & Friends, and LAILAH, the first book in the series is due for release on October 7th 2014.
These days I spend my time balancing my amazing job of writing fantasy fiction, with my other, very important role of Chocolate Connoisseur. I like to multitask and do the two together. It makes me happy.
Win (1) hardback of Lailah by Nikki Kelly (US Only)
a Rafflecopter giveaway
The FFBC is going to be giving away signed swag all throughout the tour week on their twitter site...so keep an eye out!