It's October! Which also means it's the month of SOMETHING WICKED STRIKES!
I have something really special for you guys today!!! What is it?
Well...let's just say that the author of one of MY most anticipated releases of 2015 was kind enough to put together a list of "10 Random Things" about herself!
Yes, I'm talking about the amazing Victoria Aveyard!
Oh, and I also have an ARC of her debut novel, Red Queen, for one very, very lucky reader!
How awesome is that?
So, let's learn a bit more about Red Queen and the fabulous(and also very pretty) woman behind the book!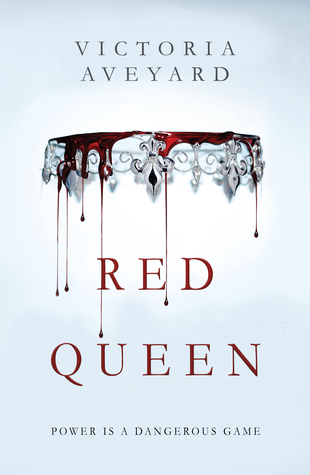 Publisher: Harper Teen
Publication Date: February 10th 2015
Genre: Fantasy
Age Group: Young Adult
Page Count: 400
Graceling meets The Selection in debut novelist Victoria Aveyard's sweeping tale of seventeen-year-old Mare, a common girl whose once-latent magical power draws her into the dangerous intrigue of the king's palace. Will her power save her or condemn her?
Mare Barrow's world is divided by blood--those with common, Red blood serve the Silver- blooded elite, who are gifted with superhuman abilities. Mare is a Red, scraping by as a thief in a poor, rural village, until a twist of fate throws her in front of the Silver court. Before the king, princes, and all the nobles, she discovers she has an ability of her own.
To cover up this impossibility, the king forces her to play the role of a lost Silver princess and betroths her to one of his own sons. As Mare is drawn further into the Silver world, she risks everything and uses her new position to help the Scarlet Guard--a growing Red rebellion--even as her heart tugs her in an impossible direction. One wrong move can lead to her death, but in the dangerous game she plays, the only certainty is betrayal.
***Guest Post***
10 Random Things About
Victoria Aveyard
Fair warning, I was a pretty weird kid and I'm currently a weird pseudo-adult. I've got a treasure trove of random facts about myself.
Some highlights:
I cheated my way to a C+ in Honors Pre-Calculus. We had class in a computer lab and I hid all my notes in the computer in front of me. Literally in the computer. And still couldn't pull off a good grade. That's how bad at math I am.

I broke both my arms in a scooter accident when I was 10. I was stealing Pokemon cards but I didn't know I was stealing, I swear.

I'm a big fan of Richard III and I will FIGHT anyone who says he murdered his nephews.

My dad and I drove from Los Angeles to Massachusetts in three days and didn't murder each other.

I believe in vortexes. There's no other explanation for the amount of pens and hair clips I lose.

In 7th grade, I read Lord of the Rings more than ten times. Like over and over again.

I am a Slytherin. Pottermore put me in Gryffindor but I reject this outright.

I have a BFA in Screenwriting and somehow have a job.

I think Stannis deserves the Iron Throne.

I'm a grandma stuck in a 24 year-old's body. I love shawls, cruises, fine blankets, and Pottery Barn.
About the Author:
After growing up in small town Massachusetts, Victoria attended the University of Southern California in Los Angeles. She graduated with a BFA in Screenwriting, which is exactly the degree being sought after in a recession.
She tries her best to combine her love of history, explosions, and butt-kicking heroines in her writing. Her hobbies include the impossible task of predicting what happens next in A Song of Ice and Fire, road trips, and burning through Netflix.
***Giveaway***
One winner will receive one ARC of Red Queen by Victoria Aveyard!
Must be at least 13 years old to enter or have permission from a parent or guardian.

Open in the U.S. ONLY
a Rafflecopter giveaway
Don't forget to check out the
full schedule
for all of the stops.
Here are the other stops today:
Heidi@Rainy Day Ramblings
: Chaos by Sarah Fine ,
Nobody @ The Story Goes…
: The Devouring Trilogy by Simon Holt ,
Maja @The Nocturnal Library
:Mihir from Fantasy Book Critic