Welcome to my stop on the WRITTEN IN THE STARS blog tour hosted by Penguin Books for Young Readers.
Today I have an awesome guest post from Aisha + a giveaway!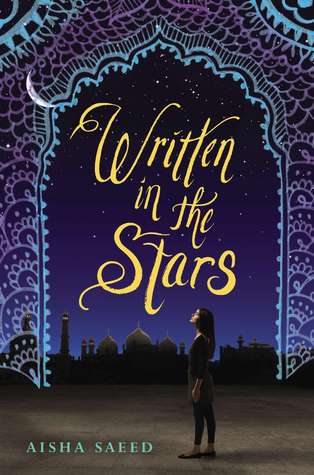 Written in the Stars
Release Date:
March 24, 2015
Publisher: Nancy Paulsen Books
Genres: Contemporary, Romance, Cultural
Book Summary:
This heart-wrenching novel explores what it is like to be thrust into an unwanted marriage. Has Naila's fate been written in the stars? Or can she still make her own destiny?
Naila's conservative immigrant parents have always said the same thing: She may choose what to study, how to wear her hair, and what to be when she grows up—but they will choose her husband. Following their cultural tradition, they will plan an arranged marriage for her. And until then, dating—even friendship with a boy—is forbidden. When Naila breaks their rule by falling in love with Saif, her parents are livid. Convinced she has forgotten who she truly is, they travel to Pakistan to visit relatives and explore their roots. But Naila's vacation turns into a nightmare when she learns that plans have changed—her parents have found her a husband and they want her to marry him, now! Despite her greatest efforts, Naila is aghast to find herself cut off from everything and everyone she once knew. Her only hope of escape is Saif . . . if he can find her before it's too late.
***
Guest Post
***
When I told my dear friend Amy I was getting married, the first thing she asked me was how long I had known him. When she found out it was only six weeks, her immediate follow up was, "when exactly in those six weeks did you fall in love with him?"
The question threw me for a loop. I was prepared for Amy's skepticism about marrying someone I knew so briefly. I had prepped my rehearsed response about how when you know it's "the one" you just know. How some people live together for years and still end up having unsuccessful marriages. How really, you could know someone for five minutes or five years, but when it comes to how much time is enough to be sure about making that ultimate commitment it's just hard to know, but this question? This question stumped me.
"You love him, don't you?" she asked, caution creeping into her voice.
I couldn't lie to my friend so I told her the truth. That I didn't love him in the way she probably meant, but that I liked him a lot and that I was sure I
would
fall in love with time.
There was static over the phone, and after a few more prodding questions, she dropped her voice to a whisper. "I can help you," she said, "if you're being forced into this you can tell me, I'll do whatever it takes."
I couldn't blame Amy for being worried about me. Maybe in her shoes I would also be skeptical about this. Here I was, just out of college, getting ready to start my first job, and I was going to marry someone I barely knew who I admitted I did not yet love. I had to admit it
was
strange to an outsider looking in.
But for me, growing up Pakistani-American, this arrangement was not strange at all. Much like the main character in my novel
Written in the Stars
, Naila,
I too grew up in a Pakistani-American household and had a very close relationship with my parents. When the time came to consider marriage, my parents always told me they would accept someone I met on my own—but they also gave me the option of introducing me to someone. I had a great relationship with my parents, I trusted them, and because the concept of being introduced to a potential suitor was not foreign to me like it was to Amy, when the idea came up it didn't feel completely out of left field for me.
To be sure, I definitely did have my doubts about the process, but unlike Naila, whose parents wanted to decide her marriage for her, I had no pressure to enter into a marriage I didn't want. I had nothing to lose when my parents told me about a great guy I should meet. I figured
why not?
There was no harm in seeing who they had in mind.
Knowing there was no obligation in meeting him eased the pressure and one July afternoon, he, his mom and sister, and our mutual friend who introduced us all came over for lunch. We ate biryani, drank tea, and talked. After some time we were able to speak one on one and even though it was our first time meeting it felt like I was reconnecting with an old friend. It took a few more phone conversations after that before we both knew the connection felt right, and that marrying each other felt like the best idea in the world.
We may not have fallen in love before we got married but I really believe love grows over time and with each passing day. I love my husband more today than on our wedding day for sure, but I also love him more today than I did yesterday. The way I got married is not going to be everyone's cup of tea, and I certainly can understand people like my friend Amy, who can't understand why anyone would do this, but the key is truly choice and, for me, it was not only the right decision but the best decision I ever made.
Aisha Saeed is an author, mama, lawyer, teacher, and maker and drinker of chai. She is also the Vice President of Strategy for
We Need Diverse Books
™.
Aisha has been blogging for over a decade and her writing has also appeared in places such as
The Orlando Sentinel, BlogHer, Muslim Girl Magazine,
and
Red Tricycle.
She is also a contributing author to the anthology
Love Inshallah
While Aisha loves writing about a variety of topics, her main passion lies in channeling her inner teen. Her debut YA novel
WRITTEN IN THE STARS
will be released in 2015 by Penguin/Nancy Paulsen Books. She is represented by Taylor Martindale at
Full Circle Literary Agency
.
When Aisha isn't writing or chasing her two little boys, you can find her reading, baking, doodling henna patterns, or daydreaming about eight consecutive hours of sleep.
a Rafflecopter giveaway
Full Schedule:
YA Highway – 3/24
IceyBooks – 3/25
Jessabella Reads – 3/26
Alice Marvels – 3/27
Pandora's Books – 3/31
Pop! Goes the Reader – 4/2
The Young Folks – 4/6
Forever Young Adult – 4/7
Cuddlebuggery – 4/8
Perpetual Page Turner – 4/9