Welcome to my stop on the Still Waters blog tour hosted by Penguin Teen.
Today I have a "10 Random Things" guest post from Ash Parsons!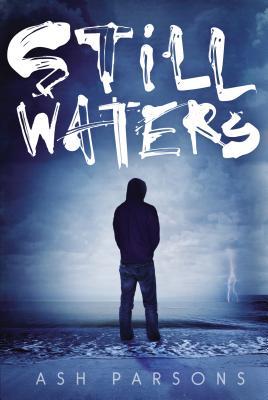 Still Waters
Release Date:
April 21, 2015
Publisher: Philomel Books
Genres: Contemporary, Psychological Thriller
Book Summary
A gritty, powerful debut that evokes The Outsiders. You won't be able to look away.
High school senior Jason knows how to take a punch. Living with an abusive father will teach a kid that. But he's also learned how to hit back, earning a reputation at school that ensures no one will mess with him. Even so, all Jason truly wants is to survive his father long enough to turn eighteen, take his younger sister, Janie, and run away.
Then one day, the leader of the in crowd at school, Michael, offers to pay Jason to hang out with him. Jason figures Michael simply wants to be seen with someone with a tough rep and that the money will add up fast, making Jason's escape plan a reality. Plus, there's Michael's girl, Cyndra, who looks at Jason as if she sees something behind his false smile. As Jason gets drawn deeper into Michael's game, the money keeps flowing, but the stakes grow ever more dangerous. Soon, even Jason's fists and his ability to think on his feet aren't enough to keep his head above water.
Still Waters
is an intense, gritty thriller that pulls no punches—yet leaves you rooting for the tough guy. A powerful, dynamic debut.
***
Guest Post
***
"10 Random Things About Ash Parsons"
I was an "army brat" growing up, so we moved around a bit.

The most unusual place we were stationed was Kwajalein Missile Range in the South Pacific. Kwajalein is three miles long (one mile is runway) and 800 yards wide (avg). We lived there for two years.

The weirdest apartment I've ever lived in was a renovated funeral parlor.

I'm obsessed with the actress Tallulah Bankhead.

I graduated from Ringling Brothers and Barnum and Bailey Clown College.

Speaking of being told you're scary, both my spouse and I were zombies on The Walking Dead.

I love to have adventures.

Sometimes I define "adventure" as binging on a new TV show while trying a new cereal.

I hate secrets and I generally suck at keeping them.

I really, really, REALLY HATE chewing gum. I think I have that thing where you viscerally hate the sound of a person eating- except for me it's just gum. Misophonia, that's it. Personally, I don't think it's a psychiatric disorder, it's just

reasonable to hate the sound of someone chewing gum.
Ash Parsons has been involved in Child and Youth
Advocacy since college. Recently she taught English to middle- and high-school students in rural Alabama. Watching some of her students face seemingly impossible problems helped inspire her first novel, Still Waters. Additionally she has taught creative writing for Troy University's ACCESS program and media studies at Auburn University. Ash lives in Alabama with her family.
Still Waters
is her first novel.
*
Praise for STILL WATERS
*
A dark, fast-paced, and violent crime drama about desperation and revenge that explores a complex moral dynamic… his narrative is stark and compelling."
—Publishers Weekly
"STILL WATERS features well-drawn characters, realistic dialogue, and ethical dilemmas that many readers have already faced or might have to face in the future. A great choice for reluctant readers, fans of books with male protagonists, and lovers of survivor stories."
—School Library Journal"

Purchase Links: