BLOOD AND SALT
Publisher:

Putnam (Penguin Teen)
Publication Date:

9/22/15
Genres: Fantasy/Horror/Romance/Paranormal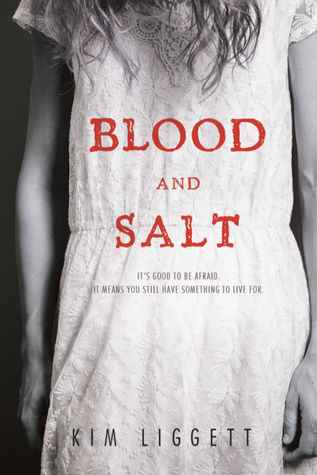 Romeo and Juliet
meets
Children of the Corn
in this one-of-a-kind romantic horror.
"When you fall in love, you will carve out your heart and throw it into the deepest ocean. You will be all in—blood and salt."
These are the last words Ash Larkin hears before her mother returns to the spiritual commune she escaped long ago. But when Ash follows her to Quivira, Kansas, something sinister
and ancient waits among the rustling cornstalks of this village lost to time.
Ash is plagued by memories of her ancestor, Katia, which harken back to the town's history of unrequited love and murder, alchemy and immortality. Charming traditions soon give way to a string of gruesome deaths, and Ash feels drawn to Dane, a forbidden boy with secrets of his own.
As the community prepares for a ceremony five hundred years in the making, Ash must fight not only to save her mother, but herself—and discover the truth about Quivira before it's too late. Before she's all in—blood and salt.
25 Random Things About Kim Liggett
1.) In my former life, I was a badass backup singer for 80's rock bands. AKA: The lost years.
2.) I went to culinary school. My first day of butchering class, I passed out. They swiftly moved me to the pastry program.
3.) I have a rescue dog named Honeypie. Every morning I wake up with bones buried beneath my body. Creepy or cute?
4.) I'm a perfume junkie. I only wear it at night. I put it on before I go to sleep, so I can dream in the fragrance.
5.) When I laugh really hard, it always turns into sobbing.
6.) I like cheese in a can with Triscuits. Judge me.
7.) I enjoy sewing. I don't like to use patterns, so I mainly stick to pajamas. They look awesome in the dark!
8.) At 16, I became an emancipated minor.
9.) I adore bad horror and sci-fi films. The cheesier the effects, the better.
10.) I once broke my arm sliding down a waterslide onto a frozen lake wearing ice skates. And falling off a chair. And riding my tricycle down the spiral stairs. I was
that
kid.
11.) I have Misophonia, which literally means, "hatred of sound". I have very strong reactions to slurping and loud chewing noises. I'm also sensitive to repetitive movements.
12.) I can't sleep without socks on. Big fuzzy ones, preferred.
13.) I'm scared of just about everything, except dying. I'm strangely at peace with that whole thing. I've lived an amazing life.
14.) At least once a week I think about chucking it all and living off the grid.
15.) I once landed an audition for Saturday Night Live. Unfortunately, they laughed at me, not with me.
16.) I love to bowl. Yes, I own a custom ball.
17.) I have two Swedish stepsons.
18.) I grew up in a house with a secret door to a cave.
19.) I'm superstitious. I can't drive through a yellow light without scratching the roof of the car.
20.) In my reckless youth, when I wanted to break up with someone, I moved. I ended up moving a lot.
21.) My sister is an aerospace engineer for the D.O.D.
22.) I once got a citation for skinny-dipping in a public fountain. I don't mess around with Truth or Dare.
23.) I was born in Romeo, MI.
24.) My grandmother was married seven times. She had a diamond encrusted cigarette holder and talked like Zsa Zsa Gabor. I adored her.
25.) I'm an Aries. A Hufflepuff. A Larkin. An Erudite.
Book Giveaway
Open in the U.S. ONLY

Winner will receive a hardcover copy of Blood and Salt by Kim Liggett.

This is a tour-wide giveaway sponsored by Penguin Teen.
a Rafflecopter giveaway
Tour Schedule
Good Books & Wine – guest post #1 – 9/14
Addicted Readers – interview - 9/15
Jessabella Reads – 25 Random Things - 9/16
A Midsummer Night's Read – Book Playlist #1 - 9/17
It Starts At

Midnight

– review & giveaway - 9/18
The Book Bratz – review & giveaway - 9/21
No BS Book Reviews – interview - 9/22
Once Upon a Twilight – Would You Rather? - 9/23
Please Feed the Bookworm – review & giveaway - 9/24
The Irish Banana – guest post #2 - 9/25
Winterhaven Books – Top 10 - 9/28
My Friends are Fiction – review & giveaway - 9/29
Fiction Fare – interview - 9/30
A Dream Within a Dream – Book Playlist #2 - 10/1
Two Chicks on Books – interview - 10/2