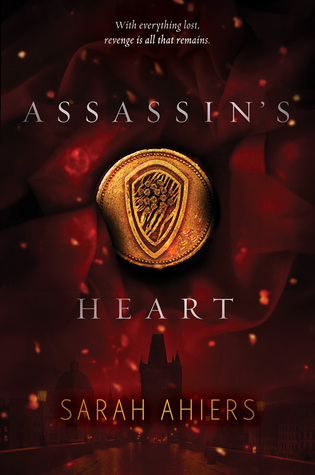 In the kingdom of Lovero, nine rival Families of assassins lawfully kill people for a price. As a highly skilled member of one of these powerful clans, seventeen-year-old Lea Saldana has always trusted in the strength of her Family. Until she awakens to find them murdered and her home in flames. The Da Vias, the Saldanas' biggest enemy, must be responsible—and Lea should have seen it coming. But her secret relationship with the Da Vias' son, Val, has clouded her otherwise killer instinct—and given the Da Vias more reason than ever to take her Family down.
Racked with guilt and shattered over Val's probable betrayal, Lea sets out to even the score, with her heart set on retaliation and only one thought clear in her mind: make the Da Vias pay.
With shades of The Godfather and Romeo and Juliet, this richly imagined fantasy from debut author Sarah Ahiers is a story of love, lies, and the ultimate vengeance.
I was really surprised by this book! In a super awesome kind of way. I love revenge and assassins, but when I got into the story and realized that there was SOO much more to it. I was expecting more historical fiction, and got historical fantasy! This was such a great read and I was shocked by some of the plot twists that I honestly NEVER saw coming! Also, the growth of the main character Lea from the beginning to the end of the book was wonderful to see. This is another author that will go on my must-buy list!! If you enjoy fierce heroines who can kick serous ass with weapons, awesome world and character building, and some crazy surprise plot twists...pre-order Assassin's Heart now!
My rating:
***I may have received a free copy of this book from the publisher for promotional purposes. Any review and/or opinions about this book are entirely my own and I was not compensated in any way.***
Leave a comment below to be entered to win a pre-order of a hardcover copy of Assassin's Heart!
PLEASE READ ALL OF THE GIVEAWAY RULES BELOW...lol...really though...please read them. :D~
Must already follow or sign up to follow my blog your favorite way to be eligible to win: Bloglovin, Email/RSS, Google+, or GFC. (Find all on right side-bar.)

Please leave a meaningful comment and it m

ust include the way you follow and the email or user name you follow with for your entry to count.

Make sure you leave an email or way for me to contact the winner! :D

I will also post a comment with the winner's first name on 1/8/16 on this post, but I will contact them first privately for prize confirmation and shipping info.

Winner will be chosen by

Random.org

with the 1st comment being given the number 1, 2nd comment the number 2, and so on.

Open Internationally!

Ends 1/7/16 at 11:59PM EST
Thanks everyone...you all rock!!!