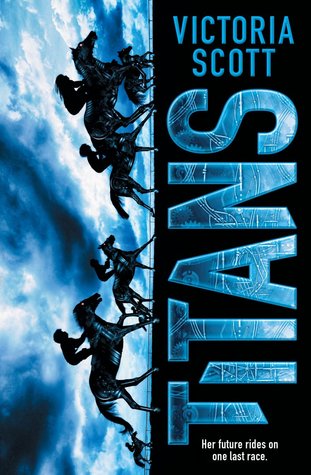 TITANS
Author:
Victoria Scott
Publisher: Scholastic Press
Publication Date: 2/23/16
Genres: Thriller, Fantasy, Sci-Fi
Age Group: Young Adult
Book Summary:
From Victoria Scott, author of FIRE & FLOOD, comes a thrilling story of impossible odds.

Ever since the Titans first appeared in her Detroit neighborhood, Astrid Sullivan's world has revolved around the mechanical horses. She and her best friend have spent countless hours watching them and their jockeys practice on the track. It's not just the thrill of the race. It's the engineering of the horses and the way they're programmed to seem so lifelike. The Titans are everything that fascinates Astrid, and nothing she'll ever touch.

She hates them a little, too. Her dad lost everything betting on the Titans. And the races are a reminder of the gap between the rich jockeys who can afford the expensive machines to ride, and the working class friends and neighbors of Astrid's who wager on them.

But when Astrid's offered a chance to enter an early model Titan in this year's derby, well, she decides to risk it all. Because for a girl from the wrong side of the tracks, it's more than a chance at fame or money. Betting on herself is the only way she can see to hang on to everyone in the world she cares about.
*MY REVIEW*
This book is soo awesome!! This is my favorite Victoria Scott book thus far! This story is unique, perfectly paced, and her characters are so well developed that I literally think of them as real people. I felt as though I was right there with Astrid every step of the way on this journey not only to win the race, but also to fix some issues within herself.
Scott is a brilliant storyteller, and I loved every moment in this book! TITANS has so much heart and I love the emphasis she puts on the importance of female friendship. Not to mention that it's a thrilling, page-turner with a kick-ass main character.
Astrid is REAL! She deals with real life issues and tries to find ways to overcome them; but isn't to proud to accept some help when it's offered. I really admired her strength and courage, but also loved when she showed vulnerability! Because as you will see in this book, sometimes being brave and in control is easier than being vulnerable and putting trust in someone other than yourself.
Of course I must mention the wonderfully sweet, brave and selfless robotic horse named Padlock, whom I loved soo much! He is a true character in his own right and honestly was one of my favorites!
First Scott made me want my own Pandora(in her Fire & Flood duology), now I am longing for my very own Titan!
This is a must have for any YA collection!
My Rating:
Follow